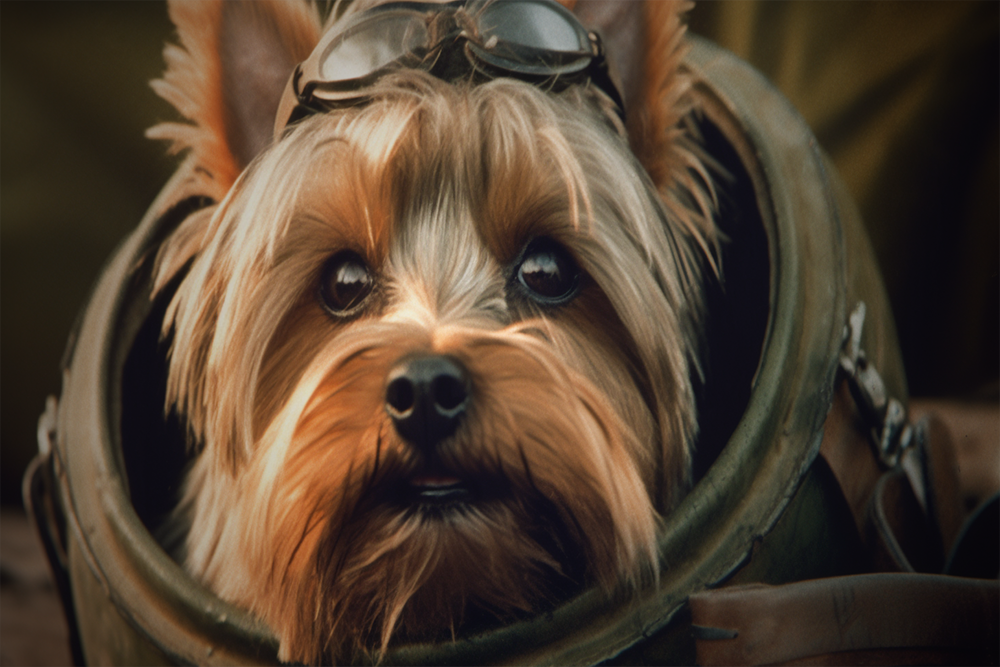 Smoky, a Yorkshire Terrier who rose to fame during World War II, left an indelible mark on the military and the world. This four-pound, seven-inch tall Yorkie was more than just a pet or mascot - she was a soldier, a source of morale, and a war hero who played a pivotal role in military operations in the Pacific. Her service to the military not only earned her numerous awards and accolades, but also sparked a renewed interest in the Yorkshire Terrier breed, once largely obscure.
From an Abandoned Foxhole to the Front lines
In the jungle of New Guinea, February 1944, Smoky was discovered by an American soldier in an abandoned foxhole. The young adult Yorkie was initially believed to be a Japanese dog. However, after realizing she didn't respond to Japanese or English commands, the soldiers understood she wasn't a dog of the enemy. Smoky was then sold to Corporal William A. Wynne of Cleveland, Ohio, for two Australian pounds, an amount equivalent to $6.44 at the time.
From that moment, Smoky accompanied Wynne throughout the rest of the war. Back-packed through combat flights in the Pacific, she braved the primitive conditions of living in the New Guinea jungle and the Rock Islands. Her diet consisted of shared C-rations and the occasional can of Spam. Despite the lack of veterinary medicine or a balanced dog diet, she never fell ill. Smoky was a testament to resilience and adaptability, running on coral for four months without any of the paw ailments that plagued some military dogs.
An Army Dog with a Heart of a Lion
Serving in the South Pacific with the 5th Air Force, 26th Photo Reconnaissance Squadron, Smoky embarked on 12 air/sea rescue and photo reconnaissance missions. During these missions, she spent long hours in a soldier's pack, dangling near machine guns warding off enemy fighters.
Smoky was credited with twelve combat missions and awarded eight battle stars. She survived 150 air raids on New Guinea, a typhoon at Okinawa, and even parachuted from a tree 30 feet in the air using a military dog carrying harness specially made for her. One of her most notable feats was saving Wynne and other soldiers from incoming shells on a transport ship. Guiding Wynne to safety amid booming and vibrating anti-aircraft gunnery, Smoky proved to be more than a mascot - she was an 'angel' from a foxhole.
The Champion Mascot in the Southwest Pacific Area
In downtime, Smoky learned numerous tricks, which she performed for the entertainment of troops. Smoky's tricks and amiable nature made her a cherished figure among the soldiers, lifting their spirits in the grim reality of war. In 1944, she was named the "Champion Mascot in the Southwest Pacific Area" by the Yank Down Under magazine.
Her tricks also played a key role in military operations. Smoky's size enabled her to assist in the construction of an airbase at Lingayen Gulf, Luzon. The engineers needed to run a telegraph wire through a 70-foot-long pipe, filled with soil in some places, leaving only four inches of headway. Smoky successfully ran through the pipe, pulling the necessary telegraph wire, and played a crucial role in building the airfield for Allied warplanes.
Smoky, the Star: From War Hero to TV Sensation
After the war, Smoky didn't just retire. She became a national sensation, with her story featured on the front page of the Cleveland Press on December 7, 1945. Over the next ten years, she and Wynne traveled to Hollywood and around the world, showcasing her remarkable skills, which included walking a tightrope while blindfolded.
Smoky also made her mark on television, appearing with Wynne on some of the earliest TV shows in the Cleveland area. They even had their own TV show called "Castles in the Air," where she performed her unbelievable tricks. Smoky was a true performer, starring in 42 live-television shows without ever repeating a trick. She also entertained in veterans' hospitals, where she remained a beloved figure among the servicemen she once served alongside. Smoky entertained millions during the late 1940s and early 1950s, proving that her charm and skills extended beyond the battlefield.
A Life Remembered: Tributes to a War Hero
On February 21, 1957, Smoky passed away at the approximate age of 14. She was buried in a World War II .30 caliber ammo box in the Cleveland Metroparks' Rocky River Reservation in Lakewood, Ohio. Nearly 50 years later, on Veterans Day, November 11, 2005, a bronze life-size sculpture of Smoky sitting in a GI helmet was unveiled at her final resting place. The monument is dedicated to "Smoky, the Yorkie Doodle Dandy, and the Dogs of All Wars".
Memorials honoring Smoky can be found in several locations, including the AKC Museum of the Dog in St. Louis, Missouri, Hickam AFB in Hawaii, and the University of Tennessee's College of Veterinary Medicine, among others. The annual Yorkshire Terrier National Rescue "Rescues of the Year" are given the "Smoky Award" in her honor.
Smoky's Legacy: Awards and Recognition
In recognition of her bravery and service, Smoky was awarded the PDSA Certificate for Animal Bravery or Devotion in April 2011. She also received the Animals in War & Peace Distinguished Service Medal in 2022.
Pioneering Animal Therapy: Smoky the Therapy Dog
Smoky's influence extended beyond her military service and subsequent fame. She is recognized as the first recorded therapy dog. Her service in this role began in July 1944 at the 233rd Station Hospital in New Guinea, where she accompanied nurses to see the incoming battlefield casualties from the Biak Island invasion. Dr. Charles Mayo of the Mayo Clinic, who was the commanding officer, allowed Smoky to go on rounds and sleep with Wynne in his hospital bed. Smoky's work as a therapy dog continued for 12 years, during and after World War II.
Yorkie Doodle Dandy: The Story of Smoky
Bill Wynne, Smoky's owner, penned a memoir titled "Yorkie Doodle Dandy: Or, the Other Woman Was a Real Dog," recounting their time together during World War II and thereafter. The book provides a detailed account of their service in the Pacific, their adventures in Hollywood, advice on dog training, and more. It also narrates the story of how Smoky was promoted to "corporal" and how this little Yorkshire Terrier ended up in New Guinea.
Through her bravery, resilience, and charm, Smoky transcended the role of a typical war dog, becoming a beacon of hope and joy for the soldiers she served with, and later, a beloved national icon. Her story continues to inspire and touch the hearts of many, reminding us of the extraordinary bonds between humans and animals, the resilience of the spirit, and the significant impact even the smallest among us can have. Through her service, performances, and therapy work, Smoky has left an enduring legacy that continues to be celebrated and remembered today.